Meet the CORE Power Brokers
SENIOR REAL ESTATE ADVISER – Michael Griffin

Michael Griffin Michael began his career in real estate in 2002 after Graduating the University of Northern Colorado with a Bachelor of Science Degree in Business Administration with an emphasis in Marketing. He found that he thoroughly enjoyed his new position as a commercial real estate broker and realized success quickly. During the past 14 years Michael has accumulated the necessary experience to navigate the ever changing Colorado Real Estate Market.
Year over year Michael has consistently been a top producer closing deals from small business opportunities to multi-million dollar transactions.Michael also has consistently been recognized and awarded with the Circle of Success Designation. These awards include the Circle of Achievement and Circle of Honor which are National Awards for sales and production. This award is only given to those that are among the top producers nationally.
Michael is also recognized as a Five Star Real Estate Professional Agent 2013, 2014 and 2015 for his exceptional customer service and was featured in 5280 Magazine 3 years in a row. Those named as a Five Star Real Estate Agent are in a select group that represent less than 7% of the real estate agents in Denver.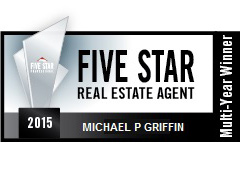 MICHAEL P GRIFFIN, Senior Real Estate Advisor
Madison & Company Properties 
COREPower Brokers
O: 303.771.3850
---
REAL ESTATE ADVISER – Janene Russeau

Janene Marie Russeau prepares herself for any situation that may occur. She feels in life you face many challenges, and how you respond can make all the difference. This carries over into real estate where preparing for the unexpected sets the good realtor apart from the pack. She strives daily to approve and educate herself ,so she can offer Superior Service to her customers. Making her customers Top Priority! Janene Marie has lived in many different major hubs, Chicago ,New York, Cleveland, Palm Beach ,Monroe Michigan, and Denver.Denver is a fantastic place to live. She has traveled abroad and to many islands. She believes traveling is the essence of life! Relocating herself many times, Janene finds that helping her clients relocate is her expertise.
"Determined ,sincere,and boundless energy makes Janene a pleasure to work with".-Tracy Harm ( former client) Janene has spent over 15 years in real estate. She also was a partner in a developing and building company. She manage and ran all the projects for properties which consisted over 300 homes, subdivisions and condominiums.
She has received numerous awards and recognition. Rookie of the Year, Luxury Home Specialist, Relocation Expert and First time Buyer award winner is some of her major achievements. A top Performer throughout her career. You can count on Janene to get the job done, from start to finish. Her dedication is unprecedented.
Janene Russeau – Real Estate Advisor
Madison & Company Properties
CORE POWER BROKERS
C: 720.999.1086
E: JaneneR@COREPowerBrokers.com
---
REAL ESTATE ADVISER – Briony Wilson
I enjoy working with clients on all aspects of their real estate transactions. I am particularly happy to work with those who are new to the process and require patience, competency, and accurate worry free services. I have spent my entire career working in Hospitality, Higher Education, Sales and Real Estates. Throughout my experience, I have delivered unparalleled service where my customers have been satisfied and kept me as a connection for future business opportunities.
I started my career as a Real Estate Agent after working for one of the largest Real Estate Online Marketing firms in the World. After spending countless hours with active real estate agents helping them with their online presence and marketing efforts, it was an easy and seamless transition for me. With these skill sets, I will work tirelessly to get you in the perfect home, one that you want , and not one that is merely available on the market. On the flip side, as a seller's agent, I will work with you to get your home sold as fast as possible with the best marketing tools in the industry , putting your home in front of qualified and transaction ready buyers online and with print media.
Additionally, having lived on the east coast for several years, and being a Jamaican native, I understand the difficulties and challenges that come with relocation. I will provide you with the area information to help you settle into a community that meets yours and your family's need. Reach out to me today for quality, diligent and professional services for your real estate transactions. I look forward to working with you.
Briony Wilson – Real Estate Advisor
Madison & Company Properties
CORE POWER BROKERS
C: 720-288-0417
E: brionywilsonhomes@gmail.com
www.brionywilsonhomes.com
---
REAL ESTATE ASSISTANT TO MICHAEL GRIFFIN – Stacy Tipton
Stacy relocated to Colorado in 2014. Stacy comes to us from Oklahoma State University with a Bachelor of Science in Marketing and Business Management. After moving to Colorado she obtained a position as Michael Griffin's Real Estate Coordinator. She is currently continuing her knowledge of the Real Estate industry.
Stacy Tipton, Marketing & Transaction Manager
Madison & Company Properties 
COREPower Brokers
O: 303.771.3850